HOW TO REMOVE A LAYER OF RHODIUM?
Rhodium is a metal used and deposited as a film to protect jewellery and watches against oxidation, sulphurisation, chemical and sometimes mechanical attacks.
It protects against the blackening of silver in contact with the skin and reinforces white gold, a rather fragile metal.
In addition, Rhodium gives a beautiful silvery colour and a great shine to the metals on which it is applied.
But time, friction and various external aggressions alter this shine and wear out certain parts of the jewel or watch, making the object unattractive.
The removal of this Rhodium layer is done by manual polishing using SG100-H polishing compound and a TP or TPB buffing mops.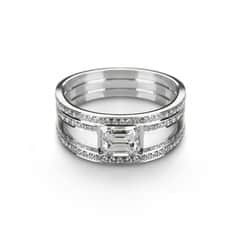 The manual polishing of a Rhodium layer allows : 
to monitor the progress of the polishing of the layer
to remove only the Rhodium layer concerned without attacking the lower layers (nickel, silver, etc.).
It also corrects any marks, scratches or shocks and restores the brilliance of the jewellery or watch before rhodium plating.
MERARD POLISHING RECOMMENDATIONS
Polishing compound
Reference : SG100 – H
Format : L 9 cm x W 3 cm x H 2.5 cm
Buffing mops
Reference : 100% cotton TP or TPB
Format : Made to measure according to your tool
Our pastes and polishing discs are developed jointly in our workshop, within our production site in France.
If you would like more information, please do not hesitate to contact us so that we can adjust the process and the products to your needs. 
DISCOVER ALL MERARD'S RANGES
Since 1911, MERARD'S polishing compounds and buffs are manufactured in our factory in France.